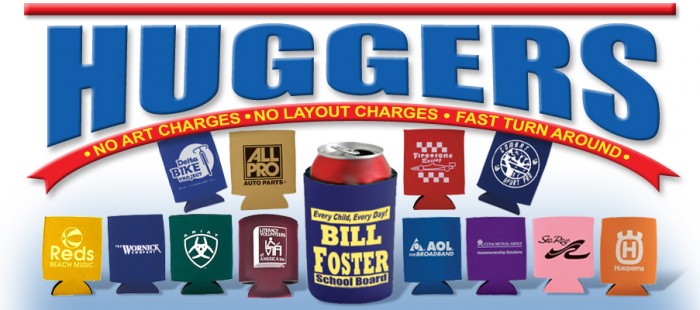 No Art Charges – No Layout Charges – Cloth exterior with felt-lined interior
– Actual size flat is 5-1/8"h x 4"w.  – Packaging 39lbs per 600. Bulk
Imprint Area: 1 or 2 side imprint, 2-1/2"h x 3"w each side.
Available Colors: 
Khaki, Grey, Purple, Yellow, Black, Royal Blue, Pink, Maroon, Lime Green, Navy, Dark Green, Red, Orange
Shipping NOT Included  –  Colors can be limited or out of stock.
1 Color Hugger  – 1 Sided Print 

Quantity

250

500

1,000

2,500

5,000

Total Cost
$265
$450
$699
$1475
$2750
Cost Each
$1.06
$.90
$.69
$.59
$.55
1 Color Hugger – 2 Sided Print 

Quantity

250

500

1,000

2,500

5,000

Total Cost
$225
$325
$499
$1125
$2150
Cost Each
$.90
$.65
$.49
$.45
$.43
Full Color Sublimation Hugger – 1 Sided Print 

Quantity

12

24

36

48

72 +

Total Cost
$60
$96
$126
$144
$180
Cost Each
$5
$4
$3.50
$3
$2.50
Full Color Sublimation Hugger – 2 Sided Print 

Quantity

12

24

36

48

72 +

Total Cost
$84
$120
$162
$190
$234
Cost Each
$7
$5
$4.50
$3.95
$3.25