Real Estate Items
FSBO (for Sale by Owner) Stock and Custom
Stock Arrow Signs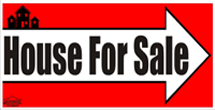 Stock Arrow Signs are 2-sided with wire stands. Just $3.50 each with a minimum of 5. You can mix-n-match to get 5 total! All signs are 2-sided directional yard signs and come with 'H' wire stands
Custom Full-Color 12″x 24″ Directional Yard Signs
These great, custom 2-sided full-collor 12″x24″ directional yard signs with "H" wire stands will help give you more needed info to help direct buyers to your home.  They will also help protect your site by being customized.  Order Enough in case you lose some!  Just send the information needed and we'll send a proof for your approval.
Best Deals
8 Signs & Wires for only $60 ,  16 Signs & Wires for only $111.20
*Yes, you can split the order.  8 signs can be split 6/2 or 4/4.  16 signs can be split 6/10 or 8/8.   We'll do what others won't.  Group quantities together so you get the larger quantity discount.  Example:  Get 8 open-house and 8 House for Sale to get the 16 piece price of $6.95.
*Protect your sign with your picture, name and/or phone number!
Custom directional signs will be 12″x24″ and sold

only in increments of 8


–

Click Here To Get a Quote for Customized Signs!

–

12″ x 24″ Full Color Arrow Yard Signs – 2 Sided WITH WIRE STANDS

 

8

16

24

32

40

48

Custom Signs

$7.50

$6.95

$6.55

$6.25

$5.95

$5.35
Stock Directional Signs
Name Riders
Stock Riders
Sandwich Boards
Custom Printed Signs
Frames & Stakes
Spinner Signs
Accessories
We offer low quantity buying at very aggressive rates! Directional signs, Custom Full-Color Signs and Frames & Premium Wires.