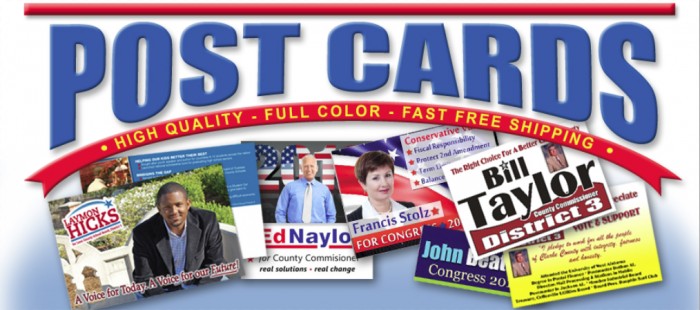 High Quality Full Color Post Cards are printed with UV Coating apply to both sides, on Heavey 14pt Gloss Coated Cover stock. Post Card Are Either 4″ X 6″, 4″ X 9″ or 6″ X 9″
NO EXTRA CHARGE FOR PICTURES OR LOGO YOU FURNISH.
POLITICAL CAMPAIGN POST CARDS ARE A MUST FOR ADVERTISING  YOUR MESSAGE IN YOU CAMPAIGN! 
SHIPPING COST IS INCLUDED IN THE PRICE. (Hawaii and Alaska Extra)
*Normal Art Work – NO CHARGE –
Complex Art Work MAY Result in Charges
* If you have camera ready art work, we will discount your cost!!!
You can find cheaper but without the quality & it comes with FREE professional custom art work!

Post Cards Free Shipping – 3-6 Day Production Rush Available – Ships on 3rd Day
Quantity
250
500
1000
2500
5000
10,000

4" x 6"


2 sided/Full Color

$169

$189

$200

$255

$329

$489
Rush Service
$15
$20
$25
$35
$45
$80

4" x 9"


2 sided/Full Color

$189

$210

$229

$299

$399

$629
Rush Service
$20
$25
$30
$40
$55
$95
6" x 9"
2 sided/Full Color

$215

$239

$299

$359

$485

$795
Rush Service
$25
$30
$35
$55
$75
$145
8.5" x 11"
2 sided/Full Color

$249

$299

$365

$545

$799

$1425
Rush Service N/A
N/A
N/A
N/A
N/A
N/A
N/A